Damon Industry takes part in implementing "smart" upgrades in the auto parts industry
In response to the increasingly tough automotive market environment, a well-known automobile manufacturer came up with the initiative of starting a joint smart production, warehouse, operation and maintenance transformation project. We upgraded the company's image to save work effort. Since 2019, fifteen warehouses in Shanghai, Zhejiang and Guangdong have been undergoing intelligent upgrades. All of the projects were completely implemented, pushing smart distribution and sorting of auto parts to a new level.
An automated warehouse with about 6,000 cargo units works eight hours a day. Having to deal with more than 5,000 sorting orders, if there is a problem with the conveyor line, the overall operation of the warehouse halts. In the above projects, all the automated warehouses selected Damon rollers for their conveyor lines. Damon rollers help automatic sorting equipment fulfill safety management goals, reduce labor intensity and improve sorting accuracy, fully meeting the needs of a "smart" upgrade. All the automated warehouses have been working smoothly and without any problems so far. This demonstrates the high quality standards, strict requirements, and high stability of Damon rollers, which also won praise from end customers and integrators.
1. With a 30-50 kg material box, 35m/min conveying speed, man-machine interaction in production and a good balance between stable operation of the equipment and environmental noise, the V-ribbed belt transmission method is widely used in the auto parts industry projects. The V-ribbed belt not only makes up for the small load carried by the O-belt, but also solves the problem of noise caused by the loud sprockets during transmission, making the rollers run quieter and more efficient, significantly improves comfort in the working environment and accuracy, ensures the timely delivery of material supply, reduces the rate of employee turnover and maximizes benefits.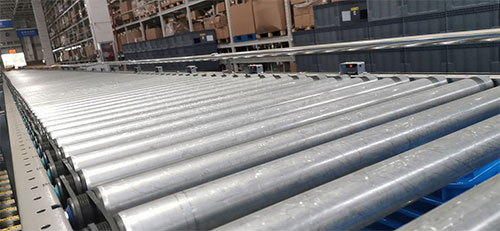 2. The electric roller replaces the traditional motor and works on the same flat surface area as the passive roller. It consists of modular units, it is effectively segmented and can be controlled independently (compared to the traditional conveyor, it can save energy by more than 50%), it has 32 speed settings, high torque support, a WCS connection to the entire logistics system for scheduling and control, and finally, it provides data interconnection with ERP, MES and other systems. It allows multi-station and multi-layer intelligent manufacturing, it comes with optimal release of energy, emission reduction, space utilization and lean production.
3. In response to China's vast territory and changing climate, Damon rollers use various accessories such as: special bearings for cold storage environments, high-speed rollers in the express industry, plastic steel shaft silent rollers in CleanRooms, etc. Among them, in coastal environment, where the air humidity and salt amount are high, the roller's surface can rust quite easily, as you can take the example of Lingang SAIC Roewe MG Storage and Distribution Center. Damon uses zinc-aluminum-magnesium standardized pipes to make sure that the roller would not get damaged or corroded under long-term and high-intensity operation and that it can transport the cargo with high efficiency and for a long time. Although there are only details, they reflect the professionalism of Damon rollers in the industry of machine parts and components.

Presently, Damon rollers have been used in numerous auto parts logistics sorting projects. Along with Industry 4.0 and the rapid development of intelligent manufacturing, Damon Industry & Concord Electric Rollers have provided rollers for the auto parts industry in the Yangtze River Delta, the Pearl River delta and other places. Along with quality improvements in rollers, Damon Industry hopes to march forward to the future hand in hand with its customers.