Damon Industry in situated in Huzhou, Zhejiang province, the place where protecting the "two mountains" theory was born. In order to both rustproof the rollers and meet environmental protection requirements, while also ensuring that clients receive the products in time, Damon Industry started seeking for the best material to coat the rollers. By devoting time and effort, consulting with our partners and by taking references from successful cases abroad, our company finally succeeded in finding a material that is both rustproof and environmentally-friendly, the new ZAM.
So what is ZAM? What is it like? How did ZAM and Damon Industry meet? Today, we enter into the mysterious world of ZAM.
1.What is ZAM?
So first, let us define ZAM!
ZAM is made of Zinc, Aluminum and Magnesium, so its name contains the first letters of each element; ZAM's full name is "Zinc Aluminum Magnesium Alloy Coating". As its name implies, due to adding the appropriate proportion of zinc, aluminum and magnesium, ZAM came to be a highly corrosion resistant material, which is also environmentally friendly.
ZAM is 10 times more resistant to corrosion than galvanized steel, due to increasing the amount of Al and Mg.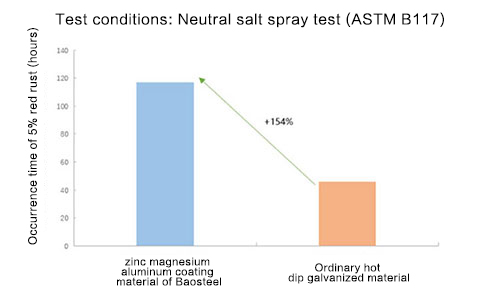 2. The history of ZAM
In the 60's, The Inland Steel Company from the USA, developed ZAM as to prevent corrosion; commercial production of ZAM started in the 1990's in Japan. Because of its strong anti-corrosion resistance under harsh conditions, it became popular in Europe, South Korea, Sweden and the whole world started researching and using it.
China's first ZAM board line was put into production in 2017. It was considered extraordinary and experts in anti-corrosion evaluated it as super resistant to corrosion. In recent years, big Chinese companies, such as Jiuquan Iron&Steel and Baosteel also started to produce and promote ZAM pipes.
3. The use of ZAM in various industries
Presently, ZAM is widely used, especially in our day to day lives. In recent years, solar photovoltaic panels became very popular. Their life span is 25 years and by using ZAM as a material for their support bracket, you won't be needed to replace it in the future. All around the cities, you can see outdoor advertisement panels, which are exposed to wind, rain and sunshine. By using ZAM, you can avoid dangers produced by the high degree of corrosion; Furthermore, because of ZAM's corrosion resistance, moldability, resistance to abrasion caused by stamping, it is commonly used in the automotive industry. In addition, ZAM is used for external appliances, pipes and charging stations production, the construction of seaside villas and so on.
For the above mentioned reasons, ZAM is very popular in roller production outside China.
4. The history of Damon Industry and ZAM
In 2018, the first edition of United Nations World Geographic Information Conference was held in Huzhou. At that time, Damon Industry was under a lot of pressure because of the environmental protection amendments. As a way to replace galvanized pipes, which are commonly used for rollers, Damon Industry introduced ZAM pipes, offering an environmentally friendly solution to preventing rust. Starting from September 2018, Damon Industry has taken the lead in using "the new galvanized pipes" for small quantities orders, by that ensuring that the products will be delivered on time.
Also, on November 2018, at the Logistics Industry Exhibition – CeMAT ASIA, Damon Industry officially exhibited rollers containing ZAM pipes. Up until now, our ZAM pipes rollers received only good reviews from clients working in different fields of industry.
In times where more and more attention is paid to protecting the environment, ZAM pipes will surely become the star of manufacturing, due to their outstanding qualities.